Lingam Kinkassage Cock Worship
Lingam Kinkassage Cock Worship with Aleena Aspley Brisbane North Queensland Australia.
TANTRIC LINGAM KINKASSAGE®
PENIS WORSHIP FOR MEN
Kinkassage® is a Registered Trademark
.
TANTRIC LINGAM KINKASSAGE® is an up-market, sensual and highly arousing male bodywork session, with duality bodywork play, sensate touch techniques, shamanic de-armoring bodywork and ending with a super-slow genital worship / massage.
Lingam worship accompanied with Tantric relaxation, can be extremely healing, relaxing and blissful for a man. The goal of Lingam Kinkassage, is to switch off male brain chatter (busy brain) which is an ideal choice, for the busy business professional / business owner.
A Tantric Lingam Kinkassage session, can assist a male to enter into a down-regulated, profoundly relaxed, meditative state of consciousness. In a deeply relaxed state, a male's body can awaken into elevated dimensions of arousal and then experience an orgasm with delayed ejaculation.
Awakening the male genitals, and pelvic cavity, with sensual tender touch can assist a man to tap into his dormant sexual energy, also known as Kundalini energy.
Do choose my TANTRIC LINGAM KINKASSAGE® session, if you'd enjoy a long and slow, teasing, intimate genital massage with my soft magic hands. The longer your Lingam Kinkassage session the more indulgent, relaxing and spiritually divine.
PLEASE SCROLL DOWN THIS PAGE
FOR MY PRICES
.
.
WHAT IS A TANTRA LINGAM MASSAGE – What are the Male benefits?
.
Lingam Kinkassage Cock Worship
WHAT TO EXPECT IN A TANTRIC LINGAM KINKASSAGE® SESSION
Sensual & Erotic Kinkassage Relaxation

Chakra Kundalini Awakening Bodywork

My Magic Hands Sensual Touch

Lingam Kinkassage Coconut Oil Relaxation

Teasing Sensate Touch Techniques

Duality Play Bodywork

Personalised Breath Coaching

Whole Body Vibration for Chakra Activation

Pudendal Nerve Awakening – to bring pleasure ALIVE!

Pelvic Nerve and Vagus Nerve Activation

Awakening of over 15,000 nerve endings in the Pelvic cavity

Bootylicious Rosebud Massage

Heightened Ecstatic States of Consciousness

Profound Relaxation into Theta Brain Waves (Zero Brain Chatter)

You may experience an Auric Luminous Energy Orgasm (LEO)

A Positive experience and a smile from ear to ear when you leave my studio!

Kinkassage® is a Registered Trademark of Aleena Aspley
.
.
BOOK A TANTRIC LINGAM KINKASSAGE® SESSION
Two Hours $500

(You can add Tantra, Fantasy and/or G-Spot Pleasure to this session)
.
Lingam Kinkassage Cock Worship
CONTACT ME
MS. ALEENA ASPLEY
Bracken Ridge, North Brisbane
Cert. Somatic Sexologist / Sexological Bodyworker 2010
Registered Trademark Owner of Kinkassage®
Phone: 0404 449 433
International: +61 404 449 433
.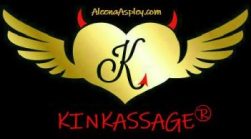 TANTRIC LINGAM KINKASSAGE®
AN EROTIC & INTIMATE PAMPER FOR MEN

Lingam Kinkassage Cock Worship