Bondassage Brisbane
Bondassage brisbane with Aleena Aspley of Bracken Ridge
BONDASSAGE® BRISBANE
A 50 SHADES EXTRAVAGANZA EXPERIENCE FOR MEN!
Are you an Erotic Explorer or Sexual Adventurer?  Would you like to explore your sexual edge? Have you ever wondered what it may feel like to be tied up and teased?
Join me in a Wickedly Sensual, Naughty and Playful session of Teasing BONDASSAGE® Relaxation, Sensual Touch and exquisite light BDSM pleasure.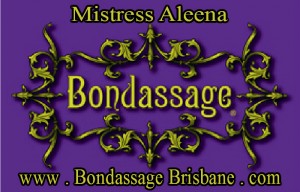 If you have tasted the delights of TANTRA and you want to explode your arousal into another Universe, then allow your Mistress to Sky-Rocket your Orgasmic bound body into Orbit!  Madame Aleena at Bondassage Brisbane loves to Dominate and Play with your full-body Pleasure.
Bondassage Brisbane
BONDASSAGE®  BRISBANE combines the intimacy and deep sensuality of erotic relaxation with a BDSM edge, incorporating light bondage and introducing a wide range of sensory experiences.
Every human being has the potential to access Heightened States of arousal. Bondassage is a highly provocative gateway to ecstatic altered states.
During your Bondassage session you'll discover yourself dripping with desire as you explore the softer side of sensual domination. Restraints, a blindfold, erotic music and implements of sensual skin awakening may be used in a loving way. These toys can help you delve deeper into your Bondassage experience, you may lose track of time and experience the full-body release into the BDSM experience of subspace.
Your Mistress believes bliss and ecstasy are your divine right. Her training in the realms of Tantra and Erotic Relaxation are extensive and unique. She will assist you to slow your brain chatter while relaxing you into a healing trance state where you can surrender totally into the divine present moment.
Join the thousands of satisfied sensual erotic adventurers. At this time there are 80 certified Bondassage practitioners world-wide. Bondassage of Brisbane has been available in Australia since October 2011.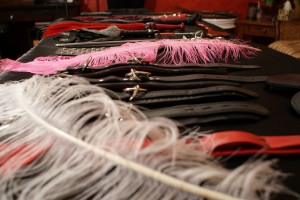 All Bondassage sessions are tailored to your individual requirements. Do tell your Mistress if you are NEW and if you are nervous about considering a Bondassage session. You will find your Mistress to be considerate and understanding of your softer needs. Book today and discover your naughty side!
SINGLES SESSION PRICES
2 Hours $500
3 Hours $750
Bondassage Brisbane
COUPLES SESSION PRICES
2 hour each $1000
2.5 hours each $1100
Bondassage Brisbane
WHAT TO EXPECT IN A BONDASSAGE SESSION?
Erotic Relaxation Bodywork

Bolder Bondage (Just Ask)

Surrender and Profound Relaxation

You will drop into Subspace / Deep Relaxation
Seductive Music
G-Spot Bodywork by request
You will BEG for another Booking!
Bondassage Brisbane
TRIED TANTRA, SO WHAT'S THE BUZZ AND HYPE ABOUT BONDASSAGE?
by Aleena Aspley Relationships Sexuality  • Published: November 15, 2011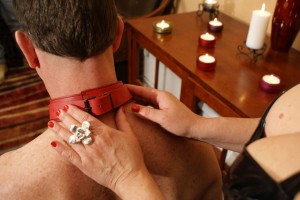 Bondassage, developed by Jaeleen Bennis, Santa Cruz USA, is all about a dynamic up-market spa experience and a transforming journey of uniquely tailored erotic pleasure, combining light bondage (BDSM), handcuffs, visual sensory deprivation, sensual erotic music and relaxing sensual massage. In addition, the Bondassage experience can propel the erotic adventurer into the BDSM experience called Subspace. What a combination indeed! What does Subspace mean? Could Bondassage be the new Tantra experience? So what is all the buzz and hype about Bondassage anyway?
PROFOUND PLEASURE IS THE GOAL
Letting go is the key with Bondassage, surrendering to profound pleasure is the goal. Clients are bound with sexy leather restraints, a blindfold and headphones. The Bondassage experience assists a client to completely unwind and experience the titillating exhilaration of light bondage, massage and teasing domination without the harshness of traditional and stricter BDSM domination.
A Bondassage session gives a client the opportunity to sink into an experience called "Subspace". Many clients experience a facial glow, profound relaxation, release from stress and all-over-the-body tingles for the rest of the day after their Bondassage session.
Bondassage Brisbane
WHAT IS SUBSPACE?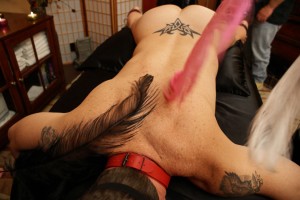 The Bondassage experience is all about the escape from the mundane world, going into another dimension called "Subspace", and surrendering into pure erotic and relaxing pleasure.
Sub-space is usually defined as "an exhilarated state that most believe is caused by a rush of endorphins emitted during a BDSM scene." Many clients say their Bondassage session, felt like they were flying in a deeply pleasurable trance and they enjoyed the opportunity to completely surrender and lose themselves into all-body pleasure!
SURRENDER IN THE UNKNOWN
The average clients, who would book a Bondassage session are between 40 and 60+ years old and are mostly professionally educated men and women. Many Bondassage clients come from a thrill seeking background, they seek the exhilaration of an adrenaline high and the idea of surrendering into the unknown can be a profound erotic turn-on. Most new Bondassage clients have experience with sensual massage and/or tantra, but they are hesitant to see a professional Dominatrix, because they consider it might be too harsh and potentially painful.
Many couples book a Bondassage session. Modern adventurous couples are interested in experiencing something different, to spice up their sex lives and add variety with sensation play, crops and toys, and learn new bedroom techniques.
WHERE CAN I BOOK A BONDASSGE EXPERIENCE?
At this time there are roughly 70 trained practitioners around the world since practitioner training was started in 2008. This light BDSM and sensual massage experience has now gone global and there are Bondassage practitioners in Europe, the United Kingdom and even Australia.
WHY NOT TRY BONDASSAGE WITH TANTRA?
As an Australian teacher of Tantra, I was completely blown away by my kinky Bondassage experience! At the end of my session, (having experienced the most explosive full-body and multiple orgasms) my face glowed and my body felt alive and relaxed with all-over-the-body tingles.  In addition, I experienced my first FEMALE EJACULATION, which was a mind blowing experience in itself; I saturated the massage table.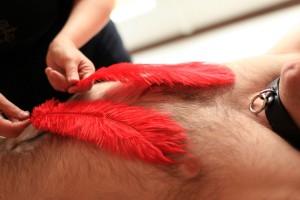 I would highly recommend decadent, high-end Bondassage to anyone who has tasted erotic sensual relaxation and/or Tantra massage. My Bondassage experience and exploration of Subspace was profoundly surreal and an amazing experience I will never forget!
by Madame Aleena
Bondassage Brisbane
 .
MALE BONDASSAGE TESTIMONIAL
That you Mistress for a wonderful 2 hour Bondassage experience on Monday 25th June 2012.  I was very apprehensive at first, however you made me feel at home and relaxed pretty much right away (you have a great warming smile…)
After understanding what I was about to go experience, I was shortly blindfolded with headphones on, (visual sensory deprivation) and "THAT IS WHERE THE FUN BEGAN!"
There is no real way to describe the Bondassage experience, you will just have to find out for yourself, however I lost count of the amount of times I orgasm'd over the two hours!
Even on the way home I was having mini orgasms along the way.
Do go see Mistress Aleena, I will guarantee it will be a adventure you will never forget, (and wanting for more)!
Rob via Email 30/6/12
.
FEMALE BONDASSAGE TESTIMONIAL
There is a fine line between Pleasure and Pain and as an Australian teacher of Tantra and Kink, I was completely blown away by my Bondassage experience with Mistress Liana and Mistress Elley, Byron Bay, Australia!
I loved the idea of the headphones and a blindfold and right from the beginning of my Bondassage session I lost myself in the divine bliss of another pleasure universe!  During my session I completely lost track of time and experienced profound full-body relaxation!
My two Mistresses quickly discovered the sensitive areas of my lower back that can completely drive my body crazy and I alerted every tenant in my Mistress's unit complex with my loud screams and moans.  I loved the prickly toys that my Mistress's rolled all over my lower back and the intense pleasure I experienced from the pinwheels and the magic wand skyrocketed my orgasm into such a high vibration that my whole body spasm'd with multiple orgasms and for the first time in my life my whole body released into female ejaculation.  Oh my God did I squirt and ever since that Bondassage session I have squirted with every orgasm!  I have found my divine – I am now a Bondassage Practitioner!  by Mistress Aleena
.
.
MISTRESS ALEENA
NORTH BRISBANE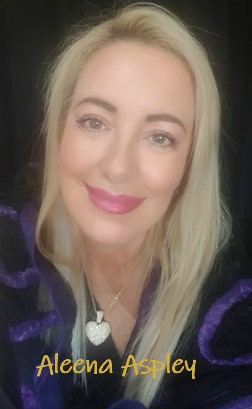 SOMATIC SEXOLOGIST / SEXOLOGICAL BODYWORKER
Mobile: 0404 449 433
International: +61 404 449 433
Website: www.AleenaAspley.com
Availabiltiy: Monday to Friday 9am to 9pm
BY APPOINTMENT ONLY
.


.
PLEASE NOTE: If you are unable to contact me on my mobile phone, then do please sms my mobile with your appointment details and request that I call you back. When I am with a client I do not answer my mobile phone.
BY APPOINTMENT: Same day appointments are available. My working hours are Monday to Friday until 9pm. Note: I do limit the number of appointments, I book, each week.
.

Bondassage Brisbane with Madame Aleena