Erotic Massage Byron Bay
Erotic massage byron bay with Liana Sexological Bodywork
ALEENA ASPLEY WRITES: Meet my sexy, luscious colleague Liana is based in Byron Bay. I would highly recommend Liana to men who love to be pampered by a busty BBW with the most soft and sensual magic hands.
Do book in advance if you are intending to travel to Byron Bay for a holiday or business trip.  If you live in Byron Bay Shire, then you are a very lucky man indeed!
.
SENSUAL EROTIC MASSAGE BYRON BAY
Feeding your skin hunger with my sensual style of touch. I use warm oil, I have soft hands and I use the softness of my ample bosoms all over your body. I love teasing you and building your pleasure slowly. I am located in a discrete location with quality amenities, close to the centre of Byron bay. Find out more here.
CONTACT ME:
Mobile: 0407 264 343
Email: liana@bondassage.com
Location: Byron Bay, NSW, Australia
.
APPOINTMENTS AVAILABLE:
Weekdays:  Monday to Friday 9am to 7pm
Weekends: Saturday to Sunday 10am to 5pm
It is advisable to book your session early, as I am often in demand.
.
Erotic Massage Byron Bay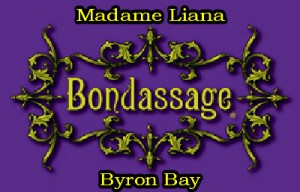 BONDASSAGE® BYRON BAY allows you to experience surrender and it also allows you to feel your resistance to surrender. It also allows you to let go of patterned behaviours around your sexuality – it helps you let go of what you think is sexy, and allows your body to truly reveal it's deep sexuality and how smoldering hot that is.
.
BONDASSAGE BYRON BAY IS AN EXPERIENCE OF SENSUALITY, SENSORY PLEASURE AND SEXUAL ENLIGHTENMENT.
BONDASSAGE is one of those opportunities to sink into something new and different. It's a way to let go and unwind. Have you ever wanted to experience submission but didn't want the harshness of traditional or stricter Domination?
Ever wanted to have a 50 Shades of Grey experience for yourself? Or wanted your partner to learn how to give you a 50 Shades of Grey experience?. Come explore with me the softer and more sensual side of Sensual Domination.
SINGLES:
Contact Liana for Pricing
COUPLES: Book a Session and experience over Four Hours of Bondassage
Contact Liana for Pricing

Two Hours for Him, a break and then Two Hours for Her
.
BYRON BAY COUPLES RETREAT

– with Liana
I want you to know that I can help you create a better intimacy, a hot sex life and more love and fun in your relationship. 
I offer an exclusive private retreat for you and your partner, designed with your needs.
It's the perfect getaway for couples – it's discrete and elegant and completely personalised.
TESTIMONIAL
"Liana provides a unique opportunity for you to share deep pleasure with each other. We knew it would be good, but we had no idea how good." ~ Terry and Petra, Gold Coast
Do let Liana know that you found her on my Tantra Fantasy Website