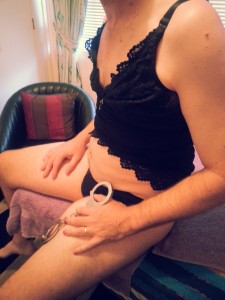 I arrived for my session with Mistress Aleena, in male attire, before showing Mistress my newly acquired pierced belly button and bright red toenails, courtesy of a four hour trip to a beautician the day before. Being pampered in a beauty salon was wonderful but nothing compared to what I was about to experience. Yes, I was there to have Mistress awaken my feminine side and wide awake did she become.
Mistress started by having me dress in frilly knickers and a feminine top to get me into the mood.  She then painted my nails a lovely pink before I performed a strip tease for her pleasure.  Once naked, I lay on the table before being handcuffed and having my legs bound, I felt helpless but so safe at the same time.  She then began to massage and tease me with her hands, moving rhythmically across my body, as I sank deeper into female territory, her whispers taking me further into my subconscious than ever before.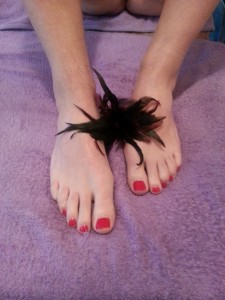 This relaxation was then interrupted, as she gently began to spank my bottom, with a small whip.  Unlike earlier, there was no fixed pattern which only heightened the sense of impeding pleasure as I waited for the wicked sting associated with whip strokes of ever increasing intensity.  I was after all being a very bad boy for dabbling in women's ways and therefore deserved to be punished.  She asked if it was too hard, but I was well away from my pain threshold, so she obliged and continued to sting my bare buttocks with renewed vigor.  It was magnificent and I thoroughly enjoyed being spanked by Mistress for my sins.  The restraints were then removed and the next phase was ready to commence.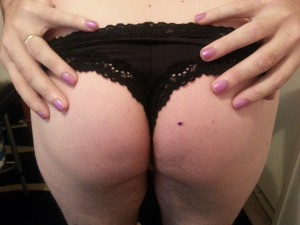 Still lying on my front, Mistress started to massage my legs and buttocks.  This was again very relaxing, as she regularly rubbed me in all the right places.  I was being gradually aroused, and this only increased with every passing stroke of her hands, along my arse crack.  She then moved further up my body and started massaging my back, with one hand, while her other hand never strayed far from my anus, that was now yearning to be entered.  With each hand movement, my desire to have her penetrate me only grew deeper.  I was on a knife's edge with anticipation, when I felt her finger start to slowly move inside of me.  It was so fulfilling to welcome her into my body and the pleasure only increased, as she continued further and further inside.
She was now massaging my prostate / g-spot and I don't have sufficient words, to do justice, to the wondrous experience that was occurring throughout my entire body.  I was on the brink of cumming, when I felt her begin to extract my newly found friend from deep inside of me.  Having your prostate massaged, is an experience that all men should undergo. The intensity of prostate massage, continues to build and there never seems to be a point, where the sensation diminishes.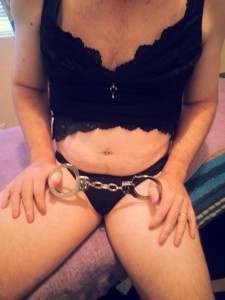 Mistress was far from finished with me, as she asked me to turn onto my back and spread my legs, my session was about to be taken to another level.  With one hand, she effortlessly re-entered me, while her other hand, started stroking my already heavily engorged penis.  The dual stimulation was so incredible, that it was impossible tell which hand was providing the greater pleasure.  This attention went on for what seemed like forever, but was probably 5-10 minutes.  Just when I felt, like to couldn't hold myself back from exploding any longer, Mistress' intensity only increased simulating my entire body, which I can only describe as being electrocuted from the inside out.  I was now at a place, where I had no physical control of my body, or even sense where I was, or who I was for that matter.  Mistress then encouraged me to "let it go" and I came like never before, exploding at least a dozen times, and with such pressure that cum flew well over my delirious head.  A volcano had erupted inside of me, and I was tingling from head to toe for the next five minutes.  I honestly don't know what happened for the next little while, other than hearing the soothing voice of Mistress guiding me gently back to reality.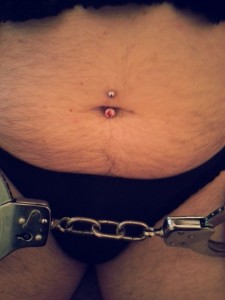 Now back on earth, Mistress removed the nail polish, from my finger and toe nails, and I showered and got dressed.  It was, undoubtedly, the most amazing experience that I have every felt.  Nothing else in my 40+ years, has even come close to the seemingly boundless exotic pleasures on which I feasted during this most rewarding Slutty Slut session.
Thank you Aleena, for taking me on a journey that was truly out of this world!
by email from Slutty Anne (4th June 2014)