Tantra Massage Articles Brisbane
Tantra Massage Articles Brisbane Kinkassage is a registered Trademark.
HERE ARE SOME GREAT TANTRA MASSAGE ARTICLES THAT ARE POSTED ON MY FACEBOOK PROFILE PAGE
.
.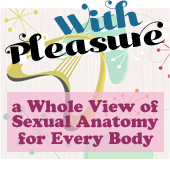 WITH PLEASURE – A View of Whole Sexual Anatomy for Every Body. Usually, when we're looking at a layout of sexual anatomy it's through the lens of reproduction, so it's all about penises and vaginas, testes and uteri. But from a standpoint of pleasure and sexual response, sexual anatomy is about far more than genitals and is far less about reproductive organs. Ultimately, all the parts of the body are potential or actual sexual organs in the context of pleasure, though some body parts or areas, overall, tend to play a bigger role for most people than other parts do. Our most important sexual organs when it comes to pleasure are not only usually different than we think, but operate far less independently than we assume or have been told.
.
.
PENIS SIZE WORRIES ARE ALL IN A GUYS HEAD, STUDY SAYS
Has spam promising a larger male member with a pill or a cream ever tempted you to click? Hold off, guys. New research confirms that anxiety about penis size doesn't correlate to what's really in your pants.
.
.
.
THE SCIENCE OF STRESS, ORGASM AND CREATIVITY
How the Brain and the Vagina Conspire in Consciousness.
To understand the vagina properly is to realize that it is not only coextensive with the female brain, but is also, essentially, part of the female soul.
.
.
The differences explained brilliantly with food It's great to see topics like 'painful sex vs. normal sex' being hilariously brought to light with the use of innocent fruit.  Do check out the latest sexual health video (below) designed to raises awareness in a fun, light-hearted way. If you suffer from Vulvodynia and you live in South East Queensland then do contact "The Yoni Whisperer"
.
.
BODY IMAGE MINDFULNESS
Exploring human sexuality inevitably leads to a discussion around body image. We need and want our bodies to feel pleasure, yet we judge, shame, think and say awful things about them.
.
Tantra Massage Articles Brisbane
10 THINGS NOT TO SAY TO A LESBIAN
When it comes to queer women, sometimes there are stupid questions they're tired of answering. You should avoid uttering the following statements if you'd like to steer clear of arguments, severe eye rolls, physical confrontations, and being equated with a cave person.
.
.
VIVA-LA-BOOBIES 7 THINGS TO KNOW ABOUT BREASTS
Learn about natural breast health for enhanced feminine vitality, sensuality, and longevity.  Discover techniques and information that every woman can utilize to create empowered breast health in every stage of life.
.
.
If your vagina could speak what would she say? Would she say, "I'm tired, I'm sore, I'm neglected?". Would she cry out in pain, "Why are you ashamed of me, why don't you love me, why don't you want anyone to see me, why are you so embarrassed?
.
.
Everyone is talking about BDSM. But what is it, really? Up until recent times, BDSM was a seemingly small subculture but it is becoming more visible in the mainstream. Still, it remains a taboo topic for many. See Bondassage Brisbane and Domination Kinkassage.
.
.
STRESS IN MIDDLE AGE 'RAISES RISK OF DEMENTIA' People who suffer excess stress in middle age are more likely to suffer dementia in later life, according to a study.